George Hageage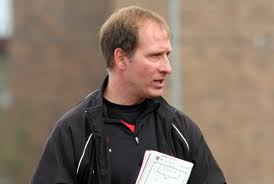 George Hageage is the Technical Director of the Midland Soccer Club. He comes to Midland after 17 years coaching at the NCAA Division I level and brings with him 33 years of youth coaching experience including 2 former club directorships, State ODP Head Coaching expeience and is a current Academy Staff member for the United Soccer Coaches (formerly the NSCAA).
Coach Hageage's primary focus is making MSC a club modeled on player development. This model features a comprehensive curriculum that runs through the entire club, tying together the Recreation program with the Fusion/ Select program, to create an atmosphere that is optimal for player development on the pitch and off.
George's Bio
Coaching/ Club Directorship Experience
Michigan State Youth Soccer Administrator of the Year 2017

17 years as a Division I women's coach (14 years as a head coach)

Eastern Washington University 2000-2014

University of Toledo 1997-1999

Big Sky Conference Coach of the Year 2004

33 years as a club coach

Spokane Shadow

State Cup Champion - Girls U16 ('96), 2013

River City SC

Co-DOC- Blaze Soccer, Toledo Ohio (became GTFC)

Pacesetter Soccer Club

Lake Erie Champions - Boys U17, U18, 1993-94

Ohio - North ODP NW District Coach 1998 - 2000

Ohio- North ODP State Team Coach 1998-2000

United Soccer Coaches Academy Staff (2006 - present)

NSCAA Region 12 Director (2004 - 2010)

Author of "Building a Succesful Soccer Program"
Education
M. Ed. University of Toledo

Master Diploma - NSCAA

Premier Diploma with distinction - NSCAA

Advanced National Diploma with distinction- NSCAA

National Diploma- NSCAA

Director of Coaching Diploma - NSCAA

National Goalkeeping Diploma- NSCAA

League Managers Association- Certificate, Building a Winning Culture

Celtic FC Development Certificate

US Soccer "D" License

U

S Soccer C License