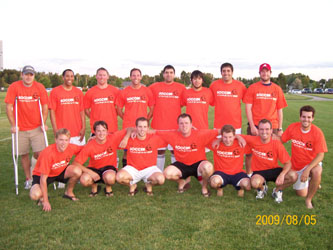 Registration is now open for the Fall Adult leagues at the Midland Soccer Club. There are two options - drop-in co-ed and competitive co-ed. All players 18 years old and up are welcome to join. Both leagues play 8v8, and will have 10 games between the week of August 19th and October 14th. The cost for the competitive league is $85 and the non-competitive league is $65.
The drop-in co-ed league does not have set teams, and there are no referees. Come ready to play with a dark and a light shirt, and you will break into different teams each week. Games are typically on Wednesday or Thursday nights.
The competitive co-ed league has set teams, and there is one center referee for each match. If you would like to play, but don't have a team, you can register without one.

Teams need to be formed by August 9th to ensure a place in the league.

Even though this is a competitive league, slide-tackling will not be allowed. Games start at 6:00pm and are mostly on Tuesdays, but there will be some games on Thursdays.
Hope to see you on the fields soon!